Alpine Distress Signal
Should you ever get lost, scurrying around in search of any available trail won't help you at all. Instead, retrace your steps carefully until you recognize the surrounding terrain once again. Always carry an emergency whistle with you. In an emergency, blow the whistle six times per minute, taking a one-minute break in between. Continue this pattern until you receive a response of 3 whistle blasts per minute. In an emergency, a cell phone can prove very helpful, though you can't always rely on having reception in all areas.

Arno Trail - Badges in Gold, Silver and Bronze
If you walk the entire length of the Arno Trail, you can earn the Gold Arno Trail Badge. You're still eligible to receive this badge even if you opt not to navigate the three high-Alpine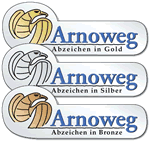 stretches (Krimmler Törl, Granatscharte and Rauriser Sonnblick)! The silver and bronze badges can be earned by walking partial segments of the trail. Proof of your efforts is provided by your trail book which will be stamped by the various huts and inns along the way. You can order the trail book by contacting: SalzburgerLand, Postfach 1, A-5300 Hallwang bei Salzburg, Austria (phone (0)662/6688, fax 6688-66, e-mail: info@salzburgerland.com).

Tourist Literature
Those regions through which the Arno Trail runs are described in the following Rother Wanderführer (series of hiking guides in German): Berchtesgadener Land, Dachstein-Tauern-Region, Gasteiner Tal, Rund um den Hochkönig, Nationalpark Hohe Tauern Nord, Nockberge, Pinzgau, Rund um Salzburg, Salzkammergut, Tauern-Höhenweg (Rother Wanderführer special).
We also recommend these guide books: Berchtesgadener Alpen, Glockner-, Granatspitz- und Venedigergruppe; Zentralalpenweg 02, Nordalpenweg 01, Voralpenweg 04, Rupertiweg 10 (all published by the Styria Verlag, Graz); Salzburger Bergziele, published by the Pustet Verlag, Salzburg; Sagenhaft Wandern im Salzburger Land, published by Schubert&Franzke, St. Pölten.